---
We're delighted to be back with our friends, meeting in person at 7:30 a.m. on the first and third Fridays of the month (the other Fridays are held virtually). Please join us for these in person meetings at the Hilton Dulles Airport, located at 13869 Park Center Rd, Herndon, VA 20171.
---
Our Club designated Fairfax County Reston YMCA as a beneficiary of the 2021 Opportunities Open Golf Tournament. On December 9 Jim Church, President of the Dulles Foundation Club (pictured with Sonia Castillo, also a member of the Opportunities Open Committee), presented a $1,550 check to the Caring For Community Campaign at the YMCA Board meeting.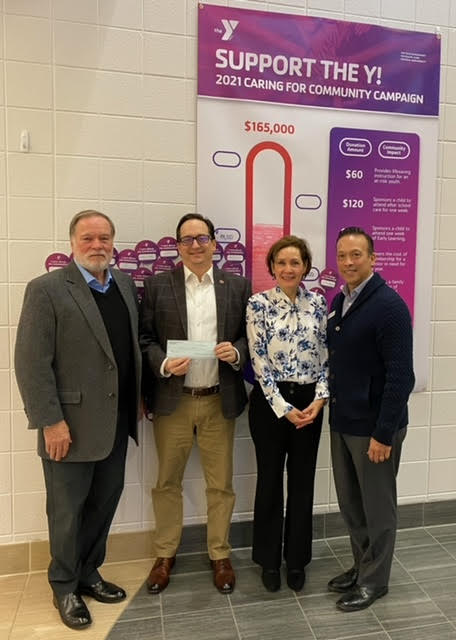 ---
The 20th Annual Cops and Kids event, led by our own John Ohrnberger and Tim Ortwein, was a great success! 108 children in-need received a new winter coat, a homemade scarf, and a new book. The highlight was watching the smile on each child's face as they were paired with a police officer to go shopping with a $200 gift card – giving some much-needed relief to their parents. Funds from Our Opportunities Open golf tournament helped make this event a success. The Loudoun - Dulles Fraternal Order of Police Lodge 69 and the Dulles Rotary Club have formed an excellent partnership. Many of their people attend our events (like the wine dinner in February) as many of our Rotarians attend their events. We invite you to join us one year. If you have any questions, reach out to John Ohrnberger. https://vafop.org/charity/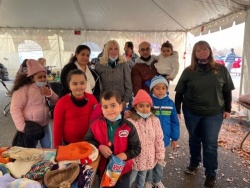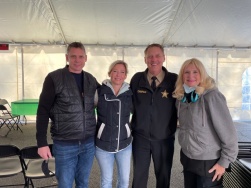 ---
We had a terrific speaker on Friday, December 3rd. Meg Crossett, works for the Capital Caring Health & Hospice as a Pediatric Social Worker. She came to us as the current President of the DC Candlelighters. The Candlelighters is a non-profit that is a resource for families that have children that are in various stages of battling cancer. The Candlelighters has been providing this meaningful service since year 2006. http://www.dccandlelighters.org/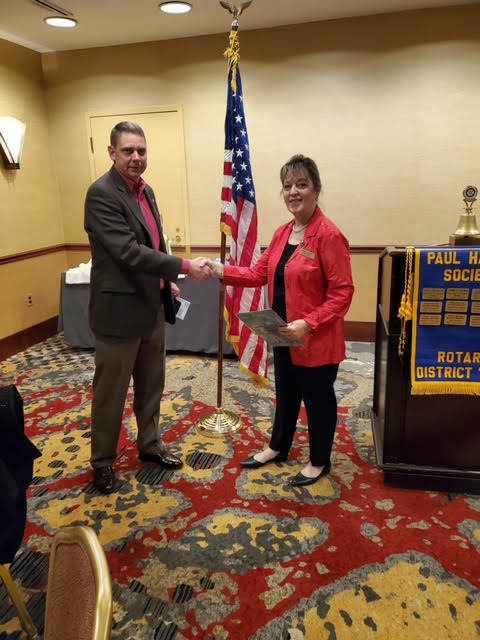 ---
More than 70 walkers raised more than $4,000 for the 10th Strategic Water Alliance (SWA) Annual Walk For Water, led by The Rotary Club of Alexandria, Virginia. Clubs and events such as this (which also had walkers in Italy, Portugal, and other VA parks) have raised nearly $500,000 for nearly 50 water and sanitation projects across Honduras, India, South Africa, and Zambia. Discussions are now in place for a project in either Sierra Leone or Uganda.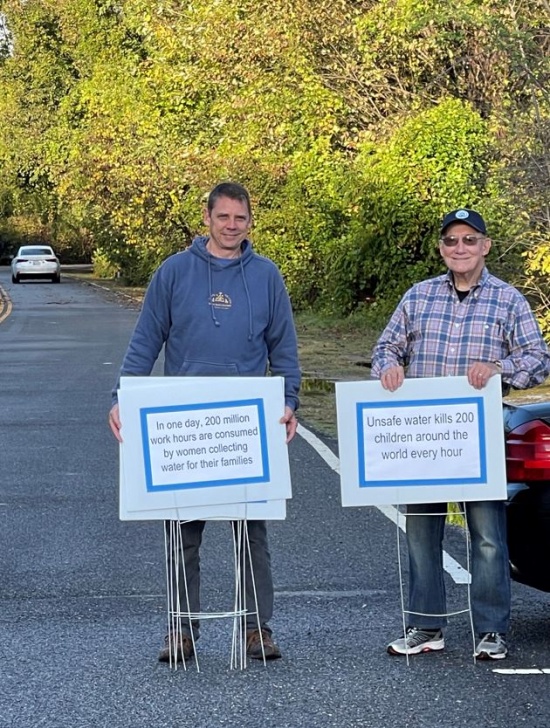 ---

Thank you to all who participated in the 25th Annual Opportunities Open Golf Tournament - our most successful yet! One hundred golfers enjoyed beautiful weather, an amazing day on the links, a delicious luncheon, a silent auction and awards. The Tournament also offered participants the chance to win highly sought-after deluxe whiskies while supporting our community.

All proceeds benefit people with disabilities, disadvantaged youth, graduating high school seniors and other local Northern Virginia initiatives – specifically, the following organizations: the ARC of Northern Virginia, ServiceSource, the ARC of Loudoun, ECHO, the Reston YMCA, and the Fraternal Order of Police's Cops and Kids initiative. In 25 years of holding this tournament the Club has donated about $600,000 to local charities.

---
That was a terrific quarterly social at Ono Brewery. Thanks to Tim, our social chair for setting everything up and making sure everyone had plenty. Thanks to Debby, our Treasurer for paying and thanks to Tony for buying the last call round! Thanks to Jim Church for giving a nice summary about the purpose of our club and the worldwide and domestic impact the Dulles Rotary Club continues to have.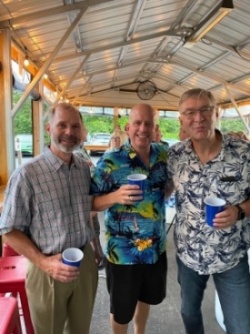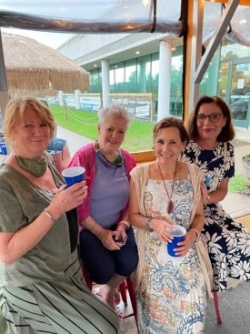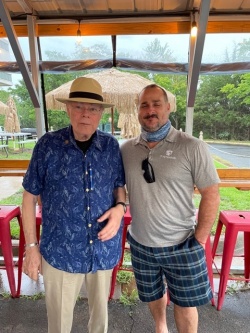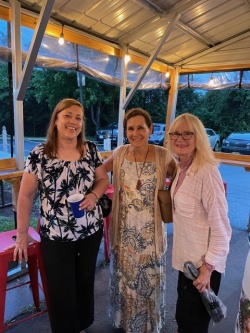 ---
Helmut Frietzsche just returned from Germany. He was glowing as he now has his first beautiful granddaughter, little Frida Rosalie. During Val Walter's two year term, she selected Helmut as the Rotarian of the Year. Helmut has not only been present all events, but a strong leader. He and his wife Ilona have been hosts to many of our fellowship events. We appreciate their friendship and hard work for others during their tour here in N. VA. Thank you Helmut!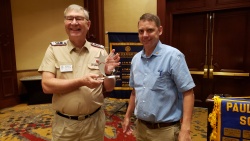 ---
We had a terrific first 'regular' in person meeting at the Hilton on July 16th. Mr. David Rodriguez, the Executive Director of the YMCA gave a presentation. The YMCA has played a critical role for children over their long history and especially through the COVID pandemic. The Y was a safe place for the kids to study, get exercise, and grow. We are looking how we may be able to combine our efforts as some of our beneficiaries are similar here in N. VA. Thank you David!

---
Our annual Installation Dinner swore in incoming President Andrew Wade, who welcomed his new Board and honored Val Walters for two epic years of outstanding service as Club President. We enjoyed a wonderful evening of good food and great company - in-person for the first time in a long time!


---
Thank you to all the club and community members that contributed to our efforts in the Dulles Diaper Drive to support the Ampersand Pantry Project. On April 3rd we donated $3,000 and a truckload of diapers, wipes, and a diaper changing table!
To learn more about the Ampersand Pantry Project, click here.


---
Dulles Foundation President, Jim Church, presents the Arc of Loudoun with a donation. The donation was part of the Holiday Matching 2020 Challenge.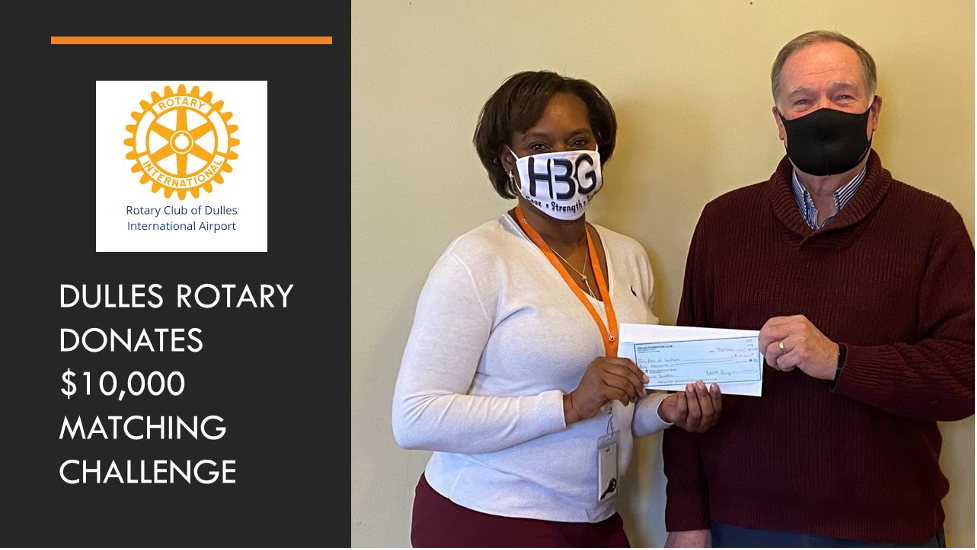 ---
Rotary Club of Dulles International Airport President, Val Walters, and Dulles Foundation President, Jim Church, accept a donation from the IT Veterans for their partnership with the Dulles Foundation Club.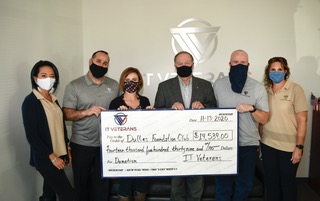 ---
Dulles Foundation President, Jim Church, and Rotary Club of Dulles International Airport President, Val Walters, present ServiceSource with an annual donation after touring the Chantilly program.
Lisa Ward, Executive Director of Service Service said, "Thank you for your on-going support. This brings the club's lifetime giving to over $191,000."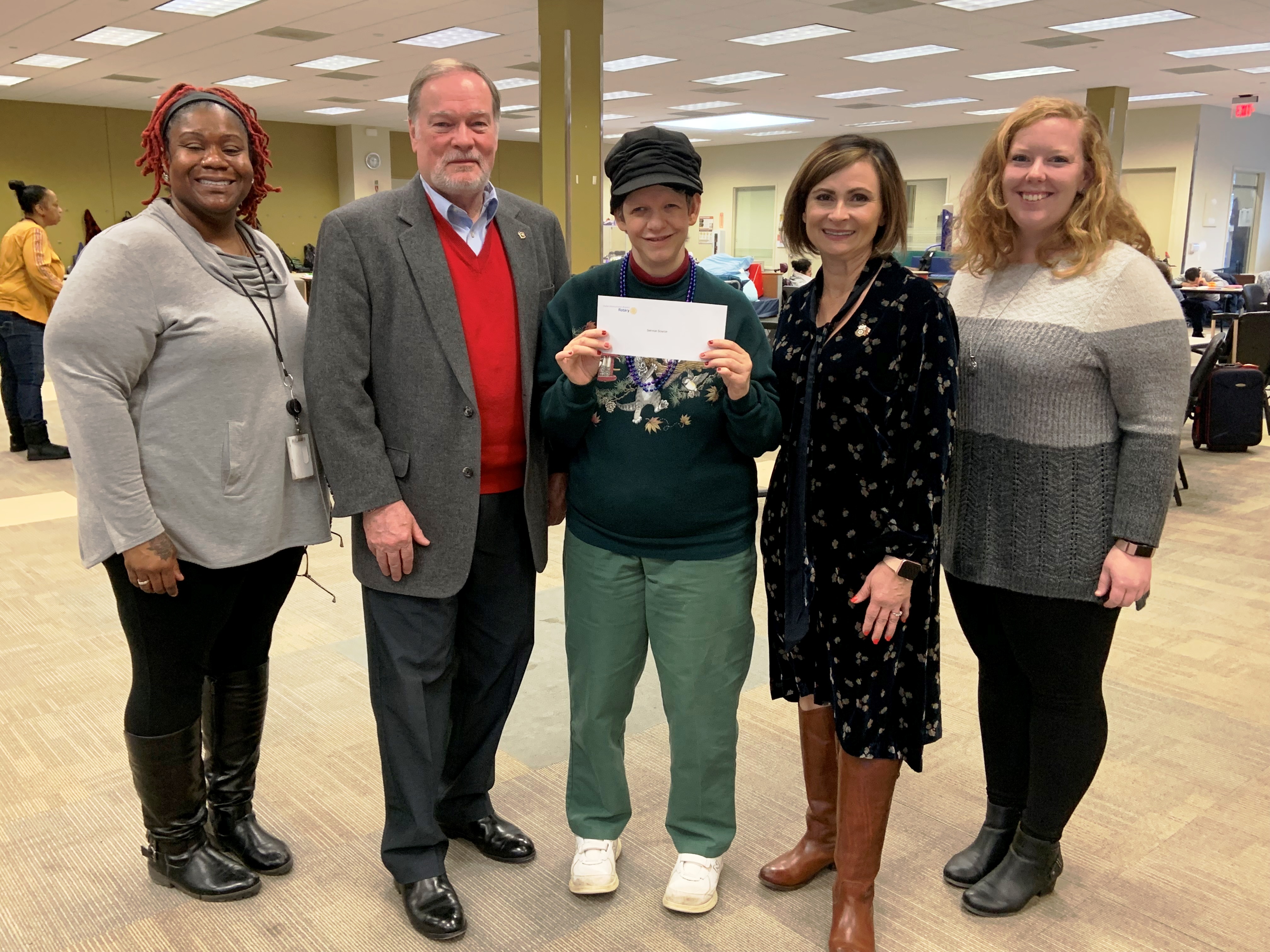 ---
We are closely monitoring the pandemic of COVID-19 and continuously assessing the potential impact on Rotary operations, events, and members.
Currently, our weekly meetings have moved to a virtual format. Weeks that will have a virtual meeting will be listed under the Virtual Meetings section on the right-hand section of this page. Members and guests are welcome to join us in this new meeting format. For meeting log-in info, please reach out to Secretary, Lorie Grooms, listed in the Club Leaders section of the home page.
We look forward to seeing everyone in person soon. Stay well.
---
Are you interested in becoming a Rotary member? We welcome you to join us for breakfast on Friday morning. Check our Meeting & Speaker Topics or Calendar to ensure we are meeting this week. For membership questions, please send an email via the contact form on the Contact Us page or email a Club Leader listed on the left side of the webpage.
To learn more about our club, click here.

Rotary Club of Dulles International Airport
P.O. Box 554
Herndon, VA 20172