---
We're delighted to be back with our friends, meeting in person at 7:30 a.m. on the first and third Fridays of the month (the other Fridays are held virtually). Please join us for these in person meetings at the Hilton Dulles Airport, located at 13869 Park Center Rd, Herndon, VA 20171.
---
On Friday morning April 21th we had the pleasure of hosting Mr. Jeff Huber. Jeff is an attorney with the Walton & Adams law firm in Reston and gave a presentation on the legal proceedings for White's Ferry. Jeff is also a former member of our Club. Mr.
Huber's practice focuses on land and business-related civil litigation, administrative land use and real estate-related matters, and general business advice. He maintains a particularly active practice in the field of eminent domain. He has represented local
governments and land owners in land use litigation, including state and federal actions resulting from the denial of rezoning and commission permit applications, challenges to
comprehensive plan and zoning ordinance amendments, and challenges to determinations by zoning officials. Jeff is recognized by his peers as one of the Commonwealth's outstanding attorneys in real estate litigation and transactional matters.
Jeff and his firm have been involved in the White's Ferry legal proceedings for quite some time. During his presentation about the legal proceedings, he provided quite a bit of background on the history of the case. This included a history of White's Ferry going back the late 1700's with land deed, survey data, and some maps going back to before and during the Civil War.

---
On Friday morning April 7th we had the pleasure of hosting Ms. Karen Joseph. Karen is the founder of Food for Neighbors. Food for Neighbors' mission is to end child student hunger in the Northern Virginia area by raising awareness and community involvement. Through awareness comes a desire to help. Currently, more than 5,000 students are receiving food support at 41 area middle and high schools with this organization.
Through their Red Bag Program, they provide a platform for middle and high schools to engage volunteers from their local community to work together to collect and distribute food every week. The program began in Herndon, Virginia, and has since expanded throughout Northern Virginia. Food For Neighbors is an organization operated and supported by local donors, volunteers and businesses who care about the students in their community.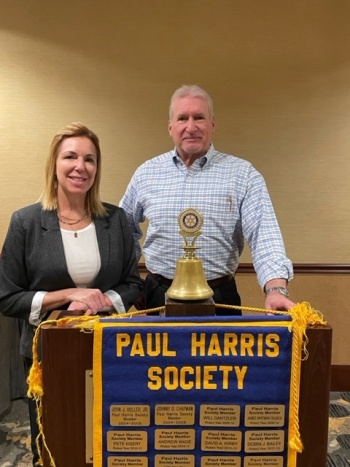 ---
On Friday morning March 17th we had the honor of hosting Mr. Bob Shade. Bob is a former Dulles International Airport Club member, and a current member of the Culpepper Club. He is a prolific author of books. His presentation was about his latest book, Freedom at Gwynn's Island.
In this third volume of the Rebellion Road Series, Bob wraps a gripping tale of intrigue, combat, and revenge around Virginia's role in the early days of the Revolutionary War. Readers of the series will welcome the return of familiar characters and discover new faces: An Irish soldier of fortune, a southern cavalry officer of questionable lineage, a young ensign of wealth and privilege, a defiant woman of color. All of Bob's book are an excellent read!
It was good to catch up with Bob. A special thanks to our President Elect John Ohrnberg for filling in for current President Lou Pack, as Lou was out of town.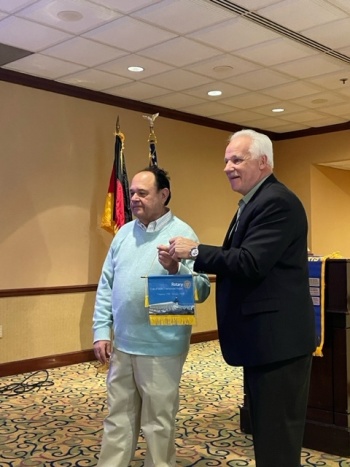 ---
On Friday morning March 3rd we had the honor of hosting Kristina Alcorn. Kristina is the author of "In His Own Words" a book about Robert E. Simon the real estate icon and the
founding developer of the pioneering planned community of Reston, Virginia.
Inheriting a fortune from the sale of Carnegie Hall, which had been purchased by his father, Robert Sr., a New York real estate investor, Simon bought 7,000 acres in Fairfax County, Virginia, in 1961 to pursue his vision of a mixed-use, walkable community where everyone—renters and owners alike— were welcome.
Simon was well ahead of his time since most midcentury suburbs were auto-oriented bedroom communities with cookie-cutter homes. He also envisioned Reston to be racially integrated—a provocative idea at a time when most communities were either formally or informally segregated.
Kristina, drawing on two years of interviews, In His Own Words offers an intimate and entertaining portrait of the man many knew only from a distance. Highlighting his humor, adventurous spirit, and dogged determination, this compilation of life stories introduces Robert E. Simon Jr. to those who never met him and serves as a keepsake for those who want to hear his voice again.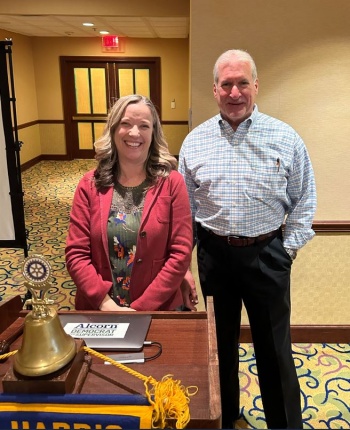 ---
On Friday morning February 3rd we had the honor of hosting Marine LTG Christopher
Mahoney, United States Marine Corps, as our speaker. General Mahoney is the Deputy Commandant for Programs and Resources. In other words, the budget for the Marine Corps goes through him. Among other achievements, he was Commanding General of the 3rd Marine Air Wing, Deputy Commander of Marine Forces Pacific, and Deputy Commander of U.S. Forces Pacific. He holds masters' degrees with the highest academic distinction from the University of Canberra and the Air University. He received his bachelor's degree from Holy Cross University. He has more than 5000 hours in fighter and attack aircraft and is a graduate of the Naval Fighter Weapons School (TOPGUN). General Mahoney's topic was the USMC Force Design 2030 Program, the future of the Marine Corps. Force Design 2030 is a force restructuring plan by the United States Marine Corps to reshape its combat power for future near-peer adversary conflicts. It is designed to prepare the Marine Corps for combat operations in the Sino-Pacific Region. We were also happy to host a number of guests, some from the Reston-Herndon Club.
After General Mahoney's presentation, we were excited to induct our newest club member, Rich McCary. Rich is a former member. He was sponsored by Georgia Graves, our Membership Chair. We are thrilled to have him back! Congratulations Rich!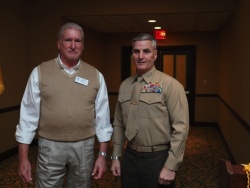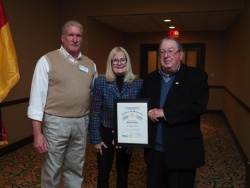 ---

---
Please join us!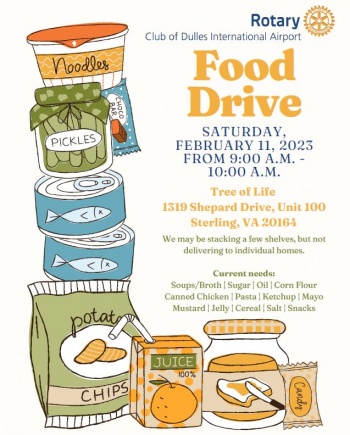 ---
Friday morning January 20, 2023, we hosted Mr. Keith Meurlin as our speaker. Keith is a retired Air Force Major General and currently the President, Washington Airports Task Force. Mr. Meurlin also retired 2005 after 28 years with the
Metropolitan Washington Airports Authority, serving as Vice President and Airport Manager of Washington Dulles International Airport in Dulles, VA for over 16 years. Prior to being appointed as Airport Manager, he served as Director
of Operations as well as Director of Engineering and Maintenance from 1977 to 1989. Keith is a former Dulles International Airport Rotary Club member. We hope to get him back one day!
Keith's talk included an overview of the current status of Dulles Airport. He covered topics such as the opening of the Metro and its impact on the airport, how passenger throughput has recovered since COVID, and recent surveys on customer
satisfaction. It turns out the latest J.D. Power survey put Dulles at the top when compared to Reagan National and BWI. He also provided some insight into the recent operational issues one airline experienced recently. Keith explained how
different airlines have different approaches to operational management and the capital investment in infrastructure to keep planes in the air and air crews at their airport duty stations when needed.
Many thanks to Keith for taking the time to join us!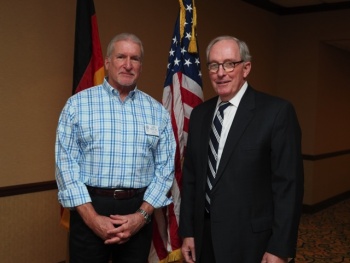 ---
Our first meeting of the new year, Friday morning January 6, 2023, we hosted three special guests. Our speaker was Ms. Reene Gorman the founder and President of the She Believes In Me (SBIM) Organization. SBIM provides life skills, emotional support and urgently needed resources to families in Herndon and the surrounding areas. SBIM serves vulnerable children and their families, who face a wide variety of challenges daily. Many lack space to call their own, with over half living in single family dwellings that house multiple family groups or non-relatives. Most people SBIM serves do not have the ability or financial opportunity to enroll in afterschool programs or extracurricular activities. Children often care for siblings or younger relatives in the absence of a parent or guardian. Renee talked about what drove her to establish the Organization in 2018 working as a Fairfax County school counselor, recognizing an urgent and growing need to provide support to young girls in the community, many of whom were suffering as a result of poverty and trauma.

We also hosted Mr. Mohamod Osman and Ms. Joan Wise. Mohamed was one of our scholarship recipients last Spring. He returned to thank the Club for our support and to share the awesome news that he graduated with his nursing degree from NVCC and he has a job with INOVA Fairfax Hospital. He will be working in the oncology unit. Joan accompanied Mohamod and is a Director with the Cornerstones Organization. Joan has been working with Mohamod and his family for years helping them navigate their economic and health challenges as immigrants. Joan has become and family friend and made the connection, on Mohamed's behalf, with our Club scholarship program. Congratulations to Mohamed. His journey to get his degree was a long and difficult one. He exemplifies the power of a positive attitude, grit, and determination.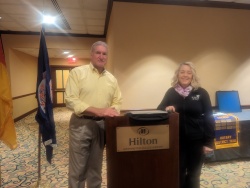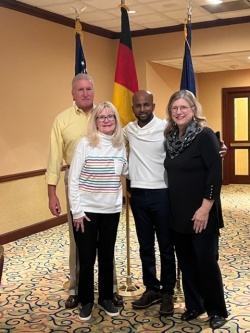 ---
On Friday morning December 16, 2022, we hosted Mr. Jordan Smith of the Tree of Life Ministries. As the Chief Development Officer Jordan is responsible for the comprehensive planning, implementation, management and oversight of all fundraising, donor communications, and community relations activities. He has been in his role since 2019 and has helped Tree of Life grow from $600k in funds raised annually to $1.8million.

Jordan gave our Club an interesting talk about the mission of Tree of Life Ministries and the people that they touch with assistance and services. Mostly active in the Loudoun County community, up to 20,000 people a year benefit from the activities that Tree of Life Ministries engages in. We found out the Jordan and his organization work closely with ECHO, one of our long-standing charities. We plan on working with Jordan on 2023 to schedule some service projects for our Club.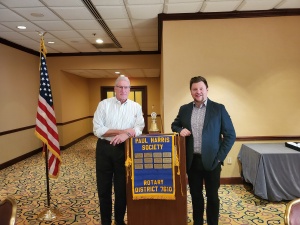 ---
On Saturday, December 3rd volunteers from our Club treated more than 100 children to a Christmas experience they might not otherwise receive. This is part of the annual Cops and Kids event, put on by the Loudoun - Dulles Fraternal Order of Police Lodge 69. More than 100 active and retired volunteers from Loudoun County Sheriff's Office, Leesburg Police Department, Middleburg Police Department, Purcellville Police Department, Virginia State Police, and elsewhere participated.

First the volunteers fed the children breakfast at the Dulles Wegmans. Then Santa and Mrs. Claus led a group of children who were paired up with law enforcement officers from several local jurisdictions. The children spend the morning Christmas shopping at Target at Dulles for themselves and/or their loved ones for holiday gifts.

FOP Loudoun Lodge 69 has been a charity of the Dulles International Airport Rotary Club for many years. This year was special, as Colonel Joerg Dronia, Commander of the @German Armed Forces Command (GAFC) (who is also a member of our Club), chose Cops for Kids as a recipient of a charitable donation of $4,000. Several members of the Command also participated as volunteers at the event. Thank you, Colonel Dronia, and the German Armed Forces Command!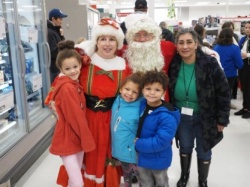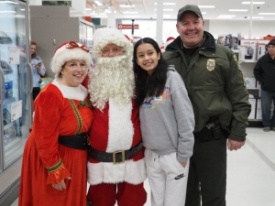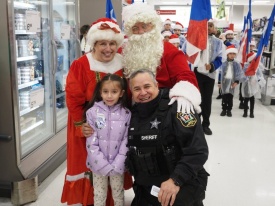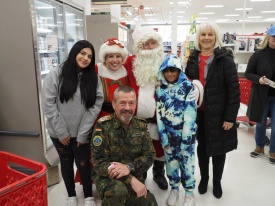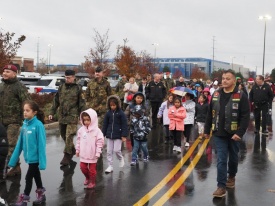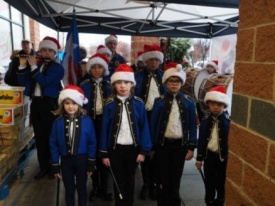 ---

---
On Friday morning November 18, 2022, we had the honor of hosting District Governor Sheila Brennan and Area Governor Pat Williams (with a special guest appearance by Paul Harris – see photo). Sheila and Pat joined us for breakfast, and helped us celebrate the 60th anniversary for Dulles Airport on Thursday the 17th. Sheila gave a great talk on the importance of Rotary and shared some interesting metrics on membership and giving by our Club. Sheila also led an interactive exercise in the importance of recognizing our members with the longest tenure, while also recognizing the importance of our newest member to carry on the traditions of Rotary. Congratulations to Johnny Chapman being a charter member of our Club, and for being a model for
service
above self for our new members.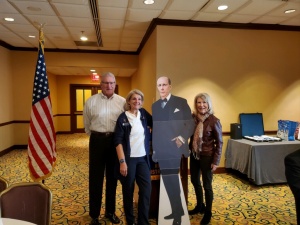 ---
On Friday morning November 4, 2022, we had the pleasure of having Eileen Curtis join us at the Hilton for breakfast and be our speaker. Eileen is a founding member of the Rotary of Great Falls. She served as the Club's President during the pandemic year. She later went on to create the music contest for the District. She now serves as Vice-Chair of Membership for the District. Her topic Friday morning was membership and the challenges faced by most Rotary Clubs today. Her talk sparked several questions and engaging conversation from our audience. We appreciate Eileen talking the time to join us for breakfast.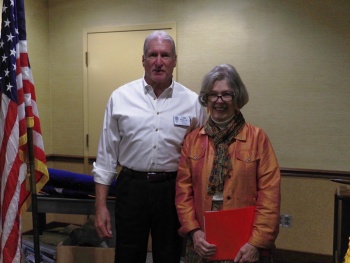 ---
On the morning of Saturday, October 22nd , we held our 11th Annual Walk for Water at Jones Point Park in Arlington Virginia. This was an in person AND Virtual walk. We had walkers from France, Italy, Germany, and various places around Northern Virginia and as far out as Winchester. The McLean and Tysons Corner Rotary Club are responsible for the overseas hikes! Over $5,000 was raised on this walk. Funds are used for due diligence trips overseas as well as for when an SWA member club does not contribute to a specific Global Grant. Please be on the lookout for the latest Global Grant in the pipeline. This is a $92,000 Global Grant that will fund water at a health clinic in Uganda. The current GG is being written by a Rotarian from the West Springfield Rotary Club. We accept the submission to be in the coming days or possibly a few weeks.
Sincerely,
Andrew Wade, Grant Chair for Dulles Airport Rotary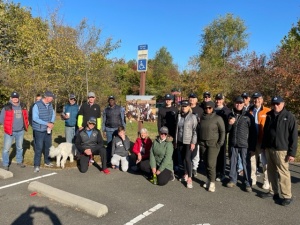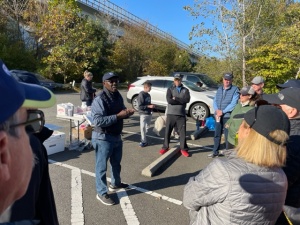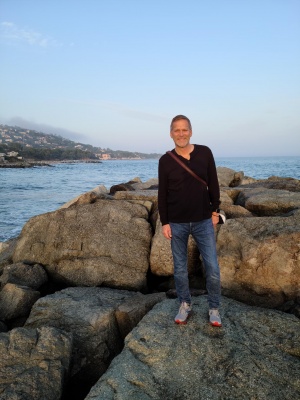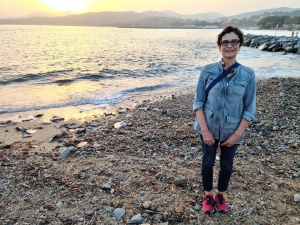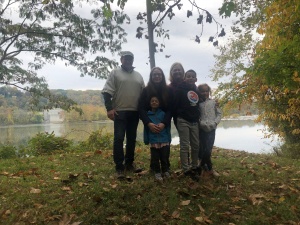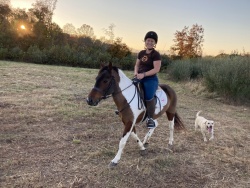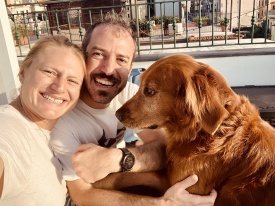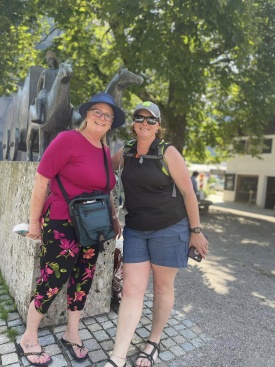 ---

---
We had a great time at the 26th annual Opportunities Open golf tournament at
Raspberry Falls Golf & Hunt Club
! Thanks to all who came out to support our community!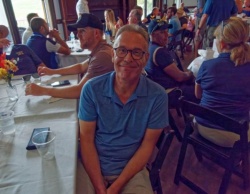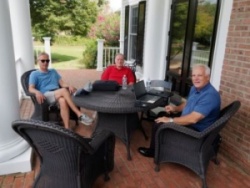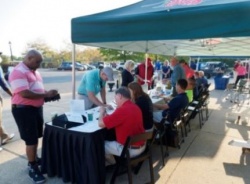 ---
On Friday morning October 7, 2022, we had a very engaging in-person meeting at the Dulles Hilton. We had the honor of hosting Admiral Axel Ristau, a Rear Admiral in the German Navy. Admiral Ristau is the German Defense and Navy Attaché in the U.S. since
September 2022. His topic was, "A German Perspective on Ukraine". He joined the German Armed Forces in 1986 and started training in Naval Aviation. He served in various capacities in Naval Aviation, including as Squadron Commander Naval Air Wing 2. The Admiral graduated the National General Staff course, and attended post-graduate studies at the Naval War College in Newport, RI. He held various positions in politico-military capacities, which led to him being assigned as Defense Attaché to the United States. German Colonel Joerg Dronia, one of our
Club members, arranged for Admiral Ristau to join us Friday.
All attendees were riveted to the Admiral's talk, and his perspectives on the Ukrainian situation as a very senior representative of the German defense organization. There was plenty of time for questions and answers as well. We
welcomed a number of our fellow Rotarians from the Herndon/Reston, Tysons, and Mclean Clubs. Mr. Travis White of the West Springfield Rotary and past District Governor was also in attendance.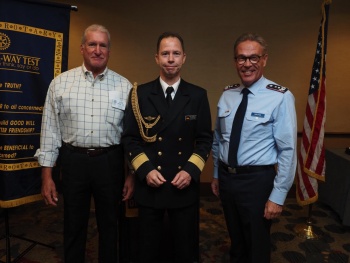 ---
On Friday morning September 16, 2022, we had a great in-person meeting at the Dulles Hilton. Our speakers were Michael and Kelly Lang, sharing the story of their life and their daughter. Imagine parents with two young children, the husband recently laid off,
saddled with a mortgage on a brand-new house, when the family's minivan is hit and forced through an intersection by a reckless driver. Their lives are altered forever, but the family commits to each other through various hardships over fifteen years, encouraged when a pediatric neurologist calls their three-year-old daughter "the Miracle Child." In the book they wrote – "The Miracle Child: Traumatic Brain Injury and Me", Kelly and Michael Lang share their alternating and unique thoughts over the days and years following the tragic car incident that fractured their family and their lives, revealing the power of persistence, faith, acceptance, and above all, the commitment of family. The book is available on Amazon.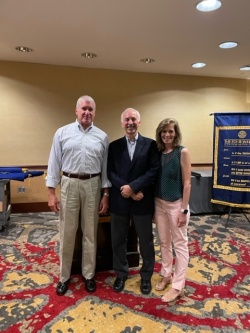 ---
On Friday morning August 26, 2022, we had an eventful in-person meeting at the Dulles Hilton. Our speaker was Mr. Paul Donohue the Chief Executive Officer of ECHO. ECHO is one of our Club's charities. The mission of ECHO is to empower individuals
with disabilities to achieve their optimal level of personal, social and economic success. We also had Ganesh Nayak a guest from the Rotary of Rotary Club Manipal Town in India. Ganesh was visiting Broadland in Loudoun County and contacted us to
make a visit to our club. We welcomed Ganesh as he gave our Club an overview of his Club in Manipal. We also exchanged Club flags. Finally, we welcomed our newest Club member Stephanie Jones to the Paul Harris
Society.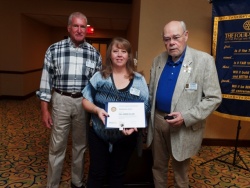 ---
Our Club recently held an in-person meeting at the Dulles Hilton. Our speaker was Mr. Kobby Okum. Although a long time resident and citizen of the United States, Kobby is from Ghana. His presentation to the Club was about the non-profit organization he founded called the Ghana Impact Project. Kobby gave a fascinating talk about how this organization provides value to people in need in Ghana by providing assistance to children in Ghana with physical handicaps. The Ghana Impact Project provides things such as wheel chairs and also prosthetics for Ghanaian Children. Kobby is a Financial Planner who has been in the industry for 15 years, and has been serving clients in Leesburg since 2009. He has been featured in Onwallstreet and Financial Planning magazine. Kobby also serves on the board of the Loudoun Estate Planning council.

---
On Friday morning July 15, 2022, we had our first in person meeting of the new Rotary year. We had a full agenda!
Our speaker was Mr. Jim Devine of the United States Geological Survey (USGS). Jim's career spanned decades at USGS. Jim shared many stories of how his expertise in seismology was applied to a wide variety of events in our history such as the launch of the Saturn V rocket (the rocket that took men to the moon in the late 1960s and early 1970s), siting of nuclear power plants in California, and the earth quake in August 2011 that had its epicenter in Louisa County, Virginia.
We also had the opportunity to honor and recognize one of our LeRoy Collins Memorial Scholarship awardees for 2022, Mohamed Osman. Mohamed was unable to attend our scholarship breakfast in June where we recognized our other scholarship awardees for 2022, due to health reasons. Mohamed gave the Club a heartfelt message thanks. Mohamed's mother was also able to join us. Joanna Wise from Cornerstone, Mohamed's sponsor and long-time advocate, was with us too. Congratulations Mohamed!
Last, but certainly not least, we welcomed our newest Club member, Stephanie Jones. Stephanie was sponsored by one of our long-time Club members John Ohrnberger. Both John and Stephanie are with the Virginia State Police. The Fraternal Order of Police, Lodge 69's program, Cops for Kids, is one of our Club's
important annual charities. Congratulations Stephanie!!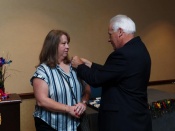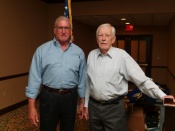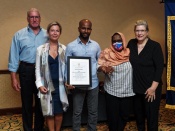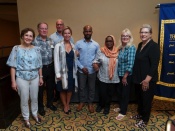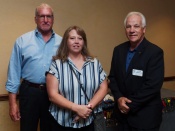 ---
On Thursday evening June 30, our Club had its annual Installation Dinner for the transition of Club Presidents. Andrew Wade our President for the 2021/2022 Rotary year welcomed our new President Lou Pack for the 2022/2023 year. Lou was sworn in by Travis White of the West Springfield Rotary and past District Governor. Our Board members for the new Rotary year were also sworn in. As part of the ceremony, a number of awards were given to Rotary members in our Club that distinguished themselves through service during the past year. Jim Church was honored as the Rotarian of the Year. Jim does so much for our Club in tracking the finances for our fund-raising events and is the President of our Dulles Foundation Club, receiving funds raised and disbursing to our charities.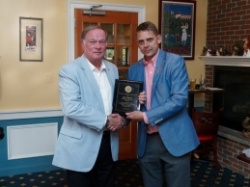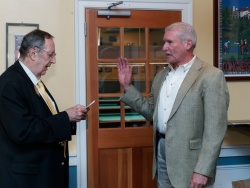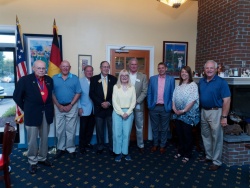 ---
We recently had breakfast with some exceptional young men and women and their families. These students were recipients of our LeRoy Collins Annual Memorial Scholarship, which helps Loudoun students who give back to community and are in-need attend college. These awards will fund tuition and expenses of colleges and schools. Congratulations to our recipients! This is what Rotary is all about – giving back to others.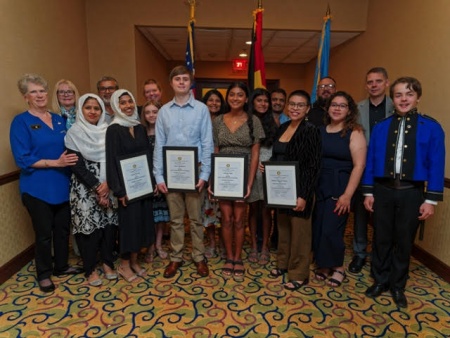 ---
Our Club had a blast getting together for a social at Ono Brewing in Chantilly, Virginia. We even had a number of family members join in on the fun. We're looking forward to enjoying a social or service project each month as a way to get together, support the community and provide an alternative for those who can't always make our meetings!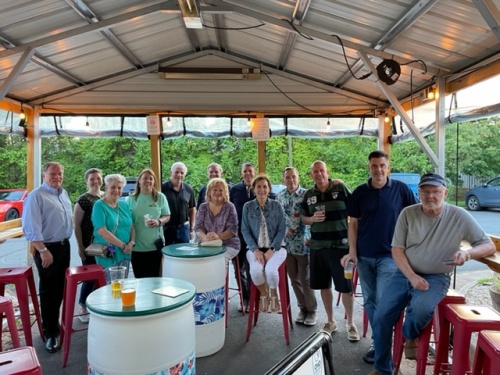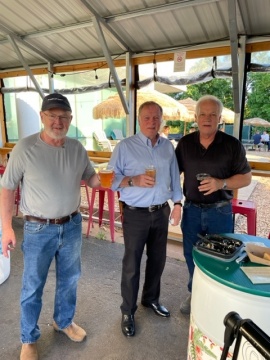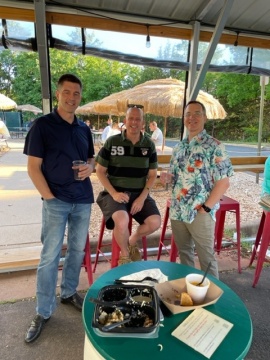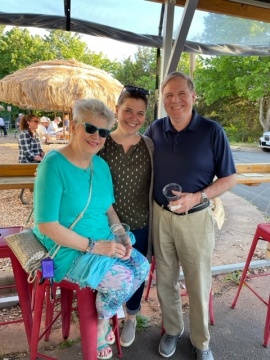 ---
On Friday May 20, 2022, we met in person at the Hilton and heard from Brigadier Gen. Fritz Urbach, Military Advisor of the European Union to the United States and Canada. He gave a briefing on the differences on structure and goals between the EU and NATO. There is some overlap, but generally work in a very different capacity. The EU has many funcitions including helping with the security in varying African countries. Both the EU and NATO are head quartered in Brussels. He had insightful comments about how the transatlantic partnership is as strong as ever as well as all EU partners working together in the face of what is happening in Ukraine since February. We appreciate our own Rotarian, Colonel Joerg Dronia, setting up this presentation.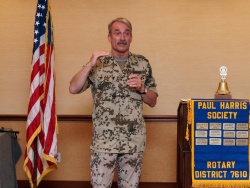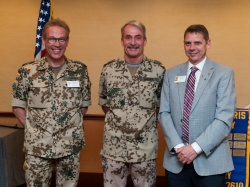 ---
The 5th Annual Scholarship/Wine Dinner was a resounding success! We easily surpassed the goal of $10,000. There was a crowd of close to 70 people. This was the first large event held at Casanel Winery in over two years. They appreciated the business for sure. Rotarians, guests, co-workers, and friends had a fun night. The music, food, and of course, the wine, exceeded all expectations. This truly was a team effort by the entire club. Good work team!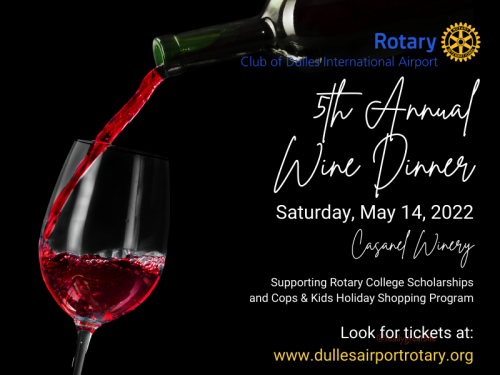 ---
This past Friday we had a special treat! John Holler and Johnny Chapman each gave a Fireside Chat to share their perspectives on Rotary, why Rotary is important to them, and their experiences as Rotarians. What a great opportunity to tap into the accumulated knowledge of a couple of long-term Dulles Rotarians!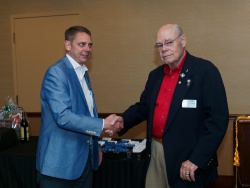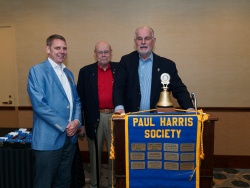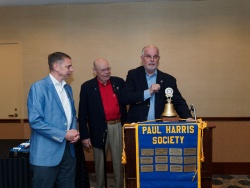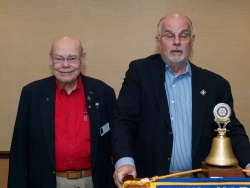 ---
The Dulles Club is also stepping up efforts to assist with the situation in Ukraine. We are accepting funds, as a club, through April 15th. Several people have already donated. The goal is $1,000 per District 7610 Club. This is tax deductible, since we are accepting funds in our club's non-profit/501c3, the Dulles Foundation Club.
Check payable to: Dulles Foundation Club
Memo: Ukraine Disaster Response
Mail:
Dulles Foundation Club
c/o Jim Church
6205 Farnham Cluster
Centreville, VA 20120
**Or give to Jim at one of the meetings, BEFORE April 15.
5.
---
Wow. This past Friday we hosted Len Shapiro from the Washington Post. He regaled us with journalism stories from the last fifty years; in fact, Len was in the press box when the underdog United States beat Russia in hockey, otherwise known as 'The Miracle On Ice' on February 22, 1980. What a treat! Thanks to Rich Langguth and Tony Denk for making the visit happen.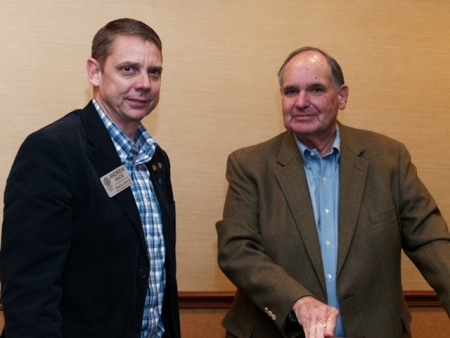 ---
We had a blast celebrating the 80th birthday of the owner of Casanel Vineyards and Winery! Happy birthday Nelson. We're looking forward to the annual Wine Dinner in May!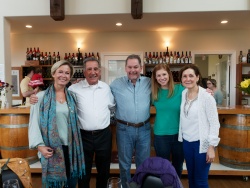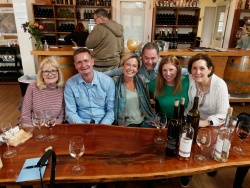 ---
At our latest Rotary meeting we welcomed our District Governor and awarded Kathrin Schroeder her Paul Harris fellowship!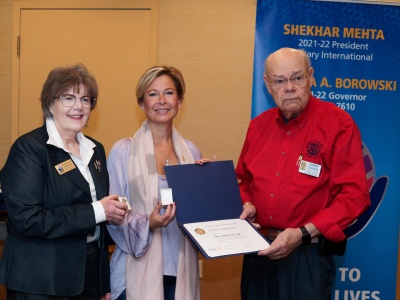 ---
We enjoyed a terrific social at Joerg's house on St. Patrick's Day. There was also the surprise announcement that Joerg not only proposed but married the love of his life, Jeannette. We are excited about the two of them, and the fact that Dulles Rotary will be a part of one of their journey. Congrats! Many Rotarians brought items for the Embry Rucker Shelter to the Colonel's house. Lou Pack delivered an SUV full of supplies. Thank you to everyone that pitched in and those that sent goods and couldn't make the event. The quarterly service project was a resounding success!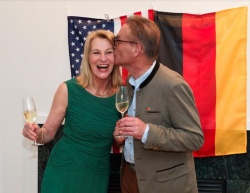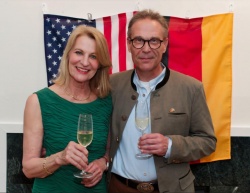 ---
For those who shop at AmazonSmile, please choose the Dulles Foundation Club (the financial arm of our Rotary Club) as your charity of choice (in the upper right-hand corner of the screen when you login, or under "Supporting" in the upper left hand corner once logged in). It's an easy way to help at no cost to you, with .5% of your purchases going to our Club to support our community. Shop and support!

---
Congratulations to Colonel Joerg Dronia and Sue Butler on their Paul Harris Fellow recognition!





---
This past meeting we enjoyed the new member induction of
Colonel Joerg Dronia followed by his classification talk. The love of his life, Jeannette, is still in Germany, but should be arriving soon. The Colonel is in his last tour of duty as the Commander, German Armed Forces Command, in Reston VA. Since they have family here in the United States already, they fit right in. You may also see the Colonel out on the golf course while he is stationed here. We are excited to have Joerg and Jeannette with us until September of 2025 and welcome them to our Rotary family.


---
On Friday, February 4th we held a brief Club Assembly on Membership, Service, and Socials. Many Clubs are finding creative ways to embrace interest in Rotary for existing and new members. We discussed that it may be easier to invite folks to more hands-on Service Projects, rather than taking up a collection of goods. Starting the 4th quarter of the Rotary year (April to June) we are looking at gathering and working together at a place like the Ellmore Farmhouse at Frying Pan Park. Another service project we are looking at trying again is the Rise Against Hunger, where we gather for a morning and work on an assembly line for thousands of meals. This is a great program and an easy event to invite people to. Lastly, our Club currently has a hybrid meeting system: 1st and 3rd Fridays of each month are in-person and the other two or three Fridays are on Zoom. Then, we throw in a Social once a quarter. We also endorsed a monthly social beginning April 7th. This will be the second meeting of the month and will replace the second Zoom meeting each month. The Social Committee, led by Tim Murray, will work out the details. We might visit a few places before settling on a venue. The consensus among members was that this new format might attract new members because of the social component and the new service component. As changes are made, please look for weekly emails, usually on Mondays. If you have questions or comment please contact John Ohrnberger (Pres. Elect Nominee), Lou Pack (Pres. Elect), and Andrew Wade (Current President).
---
On Friday February 4, 2022, we met in person at the Hilton. We swore in our latest newbie, Sue Butler. Sue also just had a birthday. This seems to be a theme with our new members being sworn in on or close to Birthdays. Sue is the in the business of Executive Search. She lives in McLean and has still decided to
make the trek out to the Dulles Hilton twice per month for our meetings. We are happy to have Sue on board and she is already anxious to help Georgia Graves on Membership. Welcome Sue!
---
Dave Humphries gave a talk this morning on tales from his childhood. He has confirmed that they are truthful and can be corroborated. One of the characters names was 'Firewood', if that tells you anything. If you would like more details, we're sure Dave will be available to share, as long as you are willing to listen!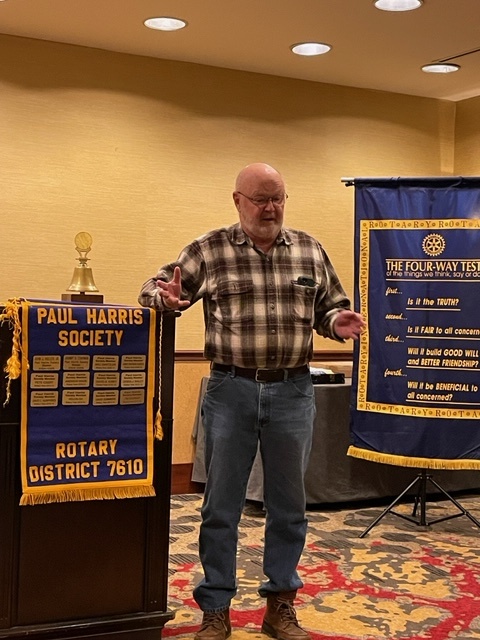 ---
Our Club designated Fairfax County Reston YMCA as a beneficiary of the 2021 Opportunities Open Golf Tournament. On December 9 Jim Church, President of the Dulles Foundation Club (pictured with Sonia Castillo, also a member of the Opportunities Open Committee), presented a $1,550 check to the Caring For Community Campaign at the YMCA Board meeting.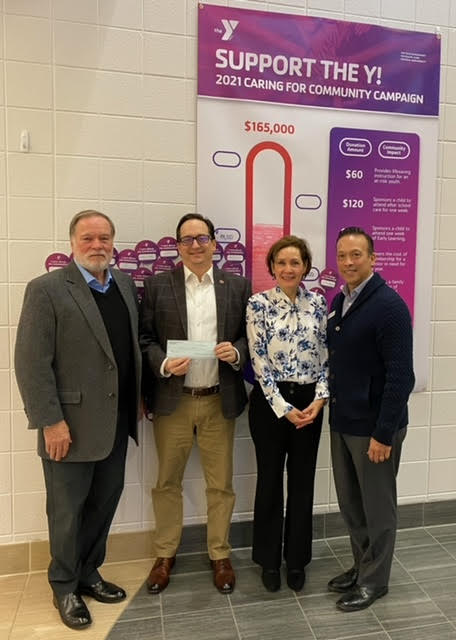 ---
The 20th Annual Cops and Kids event, led by our own John Ohrnberger and Tim Ortwein, was a great success! 108 children in-need received a new winter coat, a homemade scarf, and a new book. The highlight was watching the smile on each child's face as they were paired with a police officer to go shopping with a $200 gift card – giving some much-needed relief to their parents. Funds from Our Opportunities Open golf tournament helped make this event a success. The Loudoun - Dulles Fraternal Order of Police Lodge 69 and the Dulles Rotary Club have formed an excellent partnership. Many of their people attend our events (like the wine dinner in February) as many of our Rotarians attend their events. We invite you to join us one year. If you have any questions, reach out to John Ohrnberger. https://vafop.org/charity/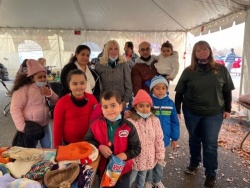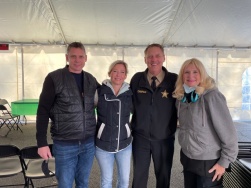 ---
We had a terrific speaker on Friday, December 3rd. Meg Crossett, works for the Capital Caring Health & Hospice as a Pediatric Social Worker. She came to us as the current President of the DC Candlelighters. The Candlelighters is a non-profit that is a resource for families that have children that are in various stages of battling cancer. The Candlelighters has been providing this meaningful service since year 2006. http://www.dccandlelighters.org/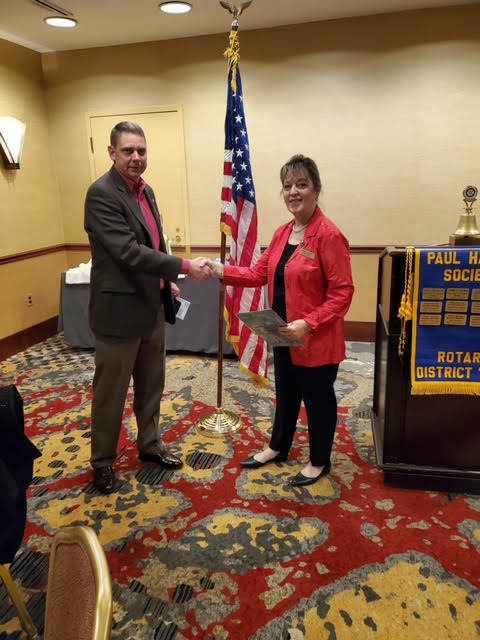 ---
More than 70 walkers raised more than $4,000 for the 10th Strategic Water Alliance (SWA) Annual Walk For Water, led by The Rotary Club of Alexandria, Virginia. Clubs and events such as this (which also had walkers in Italy, Portugal, and other VA parks) have raised nearly $500,000 for nearly 50 water and sanitation projects across Honduras, India, South Africa, and Zambia. Discussions are now in place for a project in either Sierra Leone or Uganda.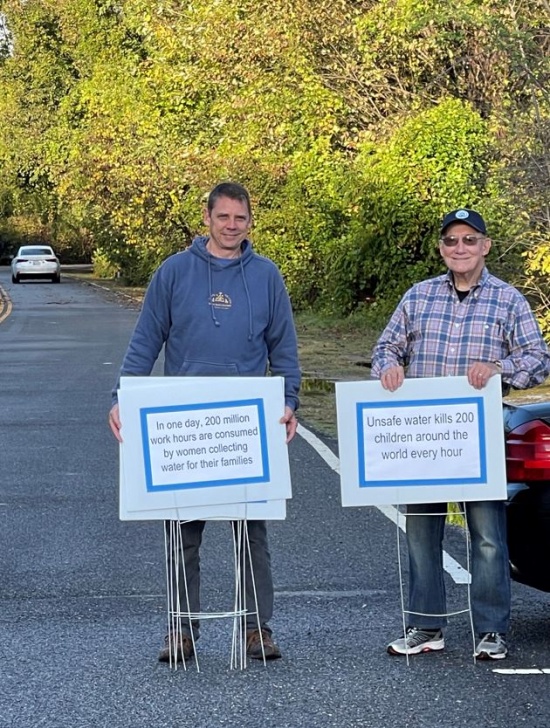 ---

Thank you to all who participated in the 25th Annual Opportunities Open Golf Tournament - our most successful yet! One hundred golfers enjoyed beautiful weather, an amazing day on the links, a delicious luncheon, a silent auction and awards. The Tournament also offered participants the chance to win highly sought-after deluxe whiskies while supporting our community.

All proceeds benefit people with disabilities, disadvantaged youth, graduating high school seniors and other local Northern Virginia initiatives – specifically, the following organizations: the ARC of Northern Virginia, ServiceSource, the ARC of Loudoun, ECHO, the Reston YMCA, and the Fraternal Order of Police's Cops and Kids initiative. In 25 years of holding this tournament the Club has donated about $600,000 to local charities.

---
That was a terrific quarterly social at Ono Brewery. Thanks to Tim, our social chair for setting everything up and making sure everyone had plenty. Thanks to Debby, our Treasurer for paying and thanks to Tony for buying the last call round! Thanks to Jim Church for giving a nice summary about the purpose of our club and the worldwide and domestic impact the Dulles Rotary Club continues to have.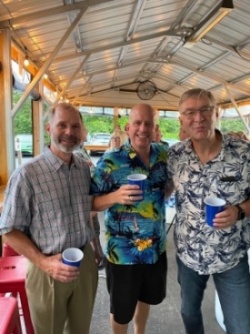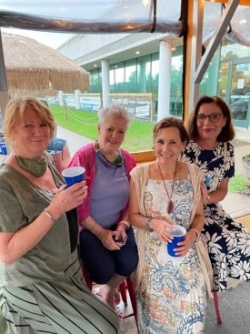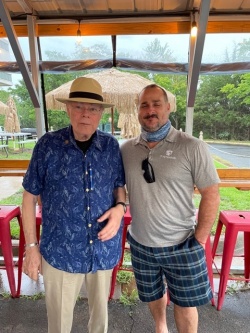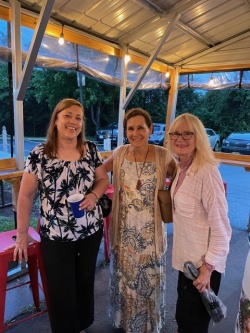 ---
Helmut Frietzsche just returned from Germany. He was glowing as he now has his first beautiful granddaughter, little Frida Rosalie. During Val Walter's two year term, she selected Helmut as the Rotarian of the Year. Helmut has not only been present all events, but a strong leader. He and his wife Ilona have been hosts to many of our fellowship events. We appreciate their friendship and hard work for others during their tour here in N. VA. Thank you Helmut!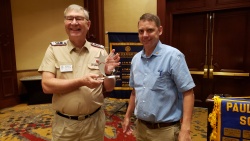 ---
We had a terrific first 'regular' in person meeting at the Hilton on July 16th. Mr. David Rodriguez, the Executive Director of the YMCA gave a presentation. The YMCA has played a critical role for children over their long history and especially through the COVID pandemic. The Y was a safe place for the kids to study, get exercise, and grow. We are looking how we may be able to combine our efforts as some of our beneficiaries are similar here in N. VA. Thank you David!

---
Our annual Installation Dinner swore in incoming President Andrew Wade, who welcomed his new Board and honored Val Walters for two epic years of outstanding service as Club President. We enjoyed a wonderful evening of good food and great company - in-person for the first time in a long time!


---
Thank you to all the club and community members that contributed to our efforts in the Dulles Diaper Drive to support the Ampersand Pantry Project. On April 3rd we donated $3,000 and a truckload of diapers, wipes, and a diaper changing table!
To learn more about the Ampersand Pantry Project, click here.


---
Dulles Foundation President, Jim Church, presents the Arc of Loudoun with a donation. The donation was part of the Holiday Matching 2020 Challenge.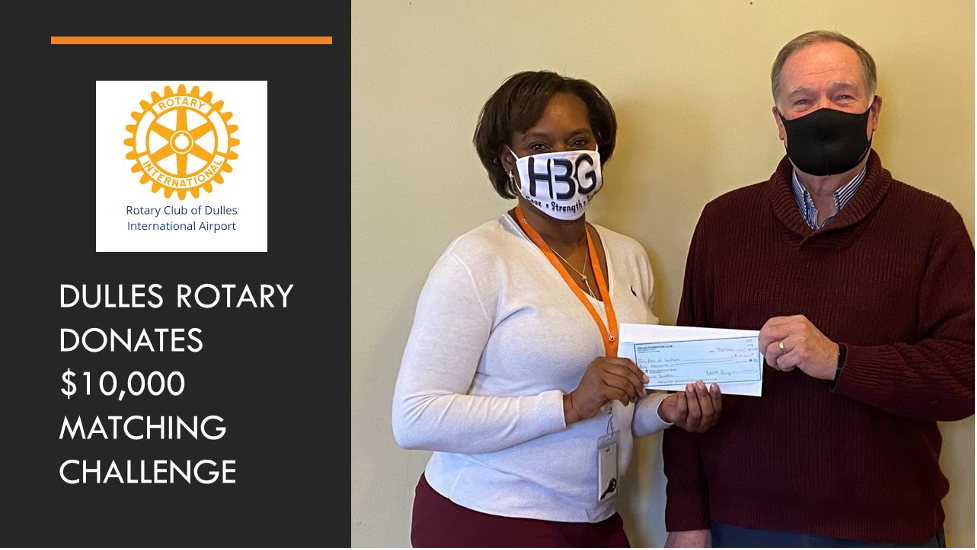 ---
Rotary Club of Dulles International Airport President, Val Walters, and Dulles Foundation President, Jim Church, accept a donation from the IT Veterans for their partnership with the Dulles Foundation Club.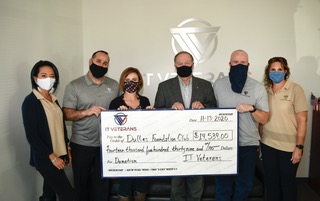 ---
Dulles Foundation President, Jim Church, and Rotary Club of Dulles International Airport President, Val Walters, present ServiceSource with an annual donation after touring the Chantilly program.
Lisa Ward, Executive Director of Service Service said, "Thank you for your on-going support. This brings the club's lifetime giving to over $191,000."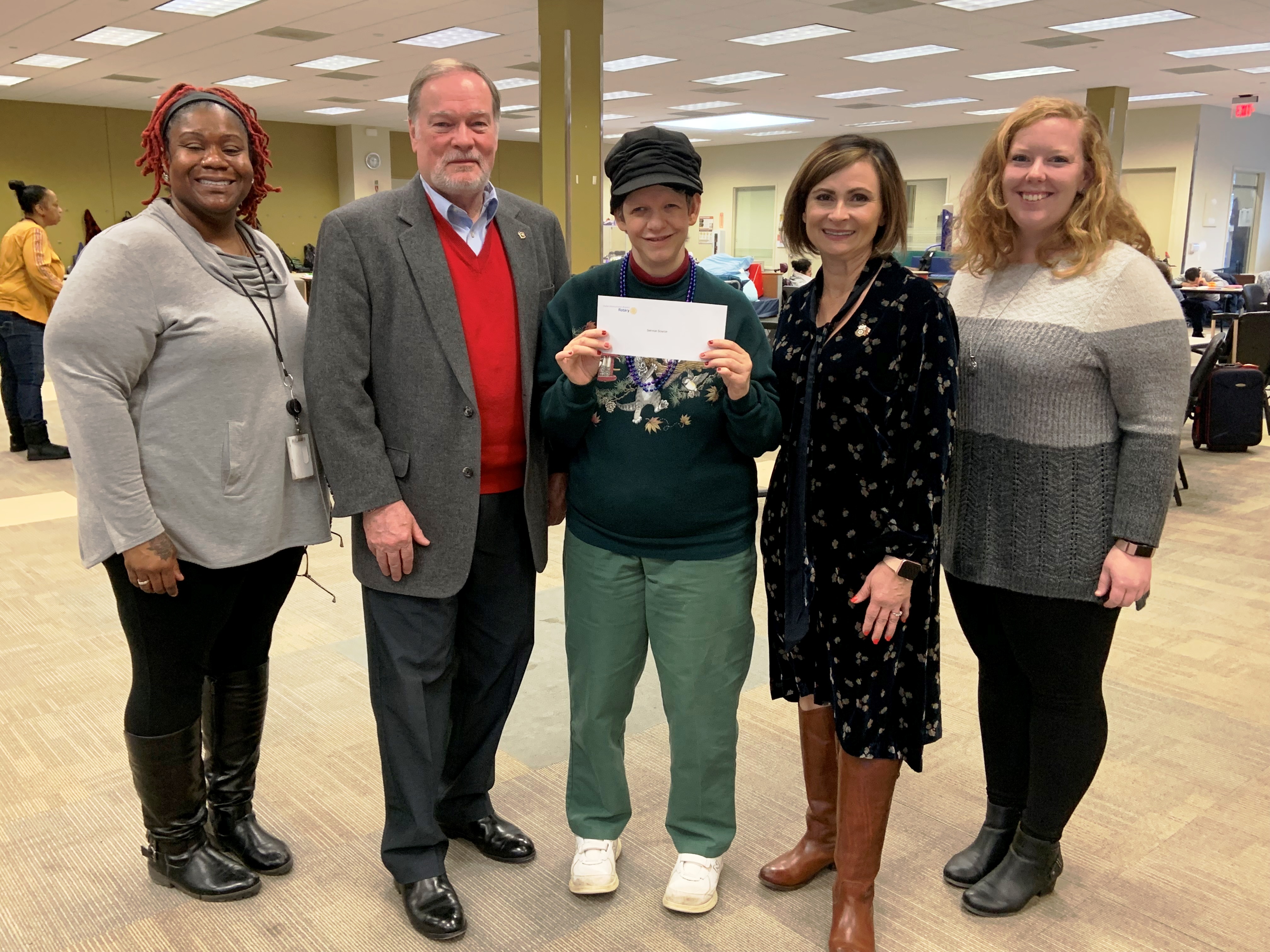 ---
We are closely monitoring the pandemic of COVID-19 and continuously assessing the potential impact on Rotary operations, events, and members.
Currently, our weekly meetings have moved to a virtual format. Weeks that will have a virtual meeting will be listed under the Virtual Meetings section on the right-hand section of this page. Members and guests are welcome to join us in this new meeting format. For meeting log-in info, please reach out to Secretary, Lorie Grooms, listed in the Club Leaders section of the home page.
We look forward to seeing everyone in person soon. Stay well.
---
Are you interested in becoming a Rotary member? We welcome you to join us for breakfast on Friday morning. Check our Meeting & Speaker Topics or Calendar to ensure we are meeting this week. For membership questions, please send an email via the contact form on the Contact Us page or email a Club Leader listed on the left side of the webpage.
To learn more about our club, click here.

Rotary Club of Dulles International Airport
P.O. Box 554
Herndon, VA 20172