---
We're delighted to be back with our friends, meeting in person at 7:30 a.m. on the first and third Fridays of the month (the other Fridays are held virtually). Please join us for these in person meetings at the Hilton Dulles Airport, located at 13869 Park Center Rd, Herndon, VA 20171.
---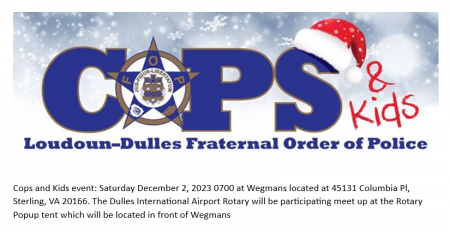 ---
Pictured here are AG Pat Williams pinning a 3rd Ruby Paul Harris award on Tim Murray and two new members, Robin Hogan and Robin McGlothin, being inducted as new club members, and of course Frau Kathrin Schroeder, our special guest speaker, with President John Orhnberger!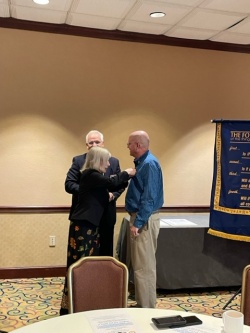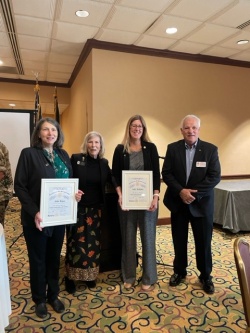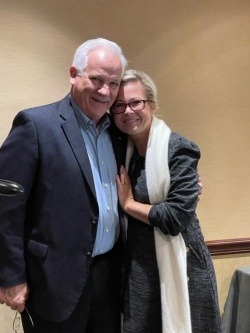 ---
Thank you to all who joined us on Monday, September 18, 2023 for a very successful 27th annual Opportunities Open! It was a gorgeous day and we enjoyed great golf, delicious food, and one lucky winner even received a deluxe bourbon basket.
We hope to see you again next year for the 28th annual golf tournament. All proceeds benefit those less fortunate in our community.
---
Please join us on Friday, August 18th for a very special presentation:
Topic: Protecting Ronald Reagan National Airport and America's Regional Airports.
Bio: Scott K. York is the Executive Director of the Committee for Dulles and President of The Coalition To Protect America's Regional Airports. Scott joined the Committee for Dulles in 2019 and became a member of its Board of Directors. He was appointed as Interim Executive Director in March of 2020, then appointed Executive Director in September 2020. Prior to January 2016, he had dedicated the last twenty-four years to public service, serving on the Loudoun County Board of Supervisors for twenty years, the last sixteen those years as its Chairman. He also served for four years as the Sterling District Planning Commissioner. Under his leadership as Chairman, Loudoun County transformed into a premier location to live and work, become one of America's economic development success stories. Scott was recognized for his years of service from the Metropolitan Washington Council of Government by awarding him with the 2015 Elizabeth & David Scull Metropolitan Service Award.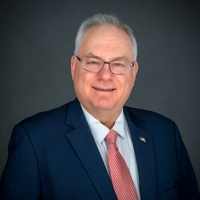 ---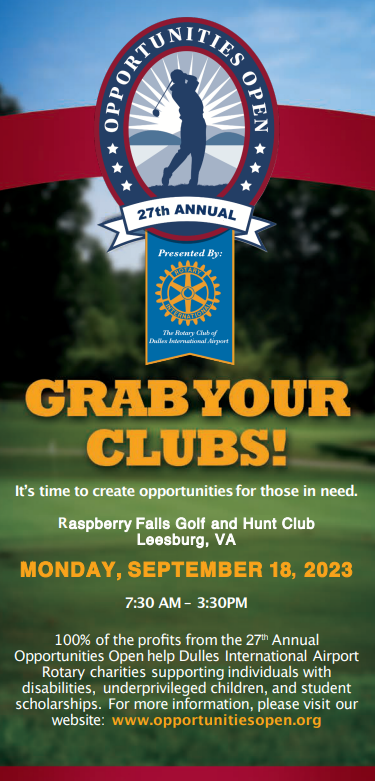 ---

27th Opportunities Open Tickets Are Live! Don't miss out on the Early Bird Special for the 27th annual Opportunities Open!
The event will take place Monday, September 18th at Raspberry Falls Golf and Hunt Club in Leesburg. All proceeds benefit local individuals and organizations which are less advantaged. We are anticipating another sold out tournament. You can find more information at www.opportunitiesopen.org. Most importantly, don't miss out!
---
On Friday morning June 2nd, our Club held our annual scholarship award breakfast for the LeRoy Collins Memorial Scholarship Program. We were excited to host our 6 scholarship awardees and their families. LeRoy Collins was a Dulles International Rotary Club member who passed away years ago. The annual LeRoy Collins Memorial Scholarship lives on to remind us of LeRoy as a great man, a gentle giant, and a true
Rotarian.
Scholarship candidates had to be a graduating senior in 2023 from a Loudoun County school, a Virginia resident, and attending a college or university within the Commonwealth of Virginia. Applicants had to submit a rigorous application that included their financial need, their academic record, their extracurricular activities, community service activities, two essays (one addressing how the applicant exemplifies the 4-Way test of Rotary), and 2 letters of recommendation. The Club Scholarship Committee also conducted interviews of each of the applicants.
Congratulations to our scholarship awardees and their families.
A special thanks to our Club members Georgia Graves and Rich McCary who co-chaired the Scholarship Committee this year.

---
On Friday morning April 21th we had the pleasure of hosting Mr. Jeff Huber. Jeff is an attorney with the Walton & Adams law firm in Reston and gave a presentation on the legal proceedings for White's Ferry. Jeff is also a former member of our Club. Mr.
Huber's practice focuses on land and business-related civil litigation, administrative land use and real estate-related matters, and general business advice. He maintains a particularly active practice in the field of eminent domain. He has represented local
governments and land owners in land use litigation, including state and federal actions resulting from the denial of rezoning and commission permit applications, challenges to
comprehensive plan and zoning ordinance amendments, and challenges to determinations by zoning officials. Jeff is recognized by his peers as one of the Commonwealth's outstanding attorneys in real estate litigation and transactional matters.
Jeff and his firm have been involved in the White's Ferry legal proceedings for quite some time. During his presentation about the legal proceedings, he provided quite a bit of background on the history of the case. This included a history of White's Ferry going back the late 1700's with land deed, survey data, and some maps going back to before and during the Civil War.

---
On Friday morning April 7th we had the pleasure of hosting Ms. Karen Joseph. Karen is the founder of Food for Neighbors. Food for Neighbors' mission is to end child student hunger in the Northern Virginia area by raising awareness and community involvement. Through awareness comes a desire to help. Currently, more than 5,000 students are receiving food support at 41 area middle and high schools with this organization.
Through their Red Bag Program, they provide a platform for middle and high schools to engage volunteers from their local community to work together to collect and distribute food every week. The program began in Herndon, Virginia, and has since expanded throughout Northern Virginia. Food For Neighbors is an organization operated and supported by local donors, volunteers and businesses who care about the students in their community.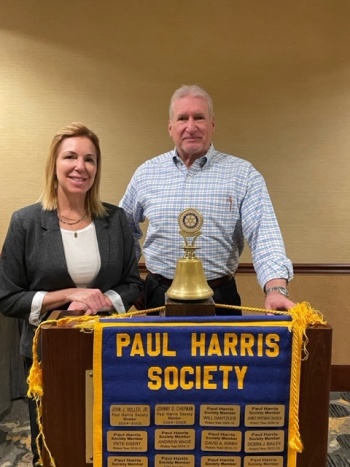 ---
Are you interested in becoming a Rotary member? We welcome you to join us for breakfast on Friday morning. Check our Meeting & Speaker Topics or Calendar to ensure we are meeting this week. For membership questions, please send an email via the contact form on the Contact Us page or email a Club Leader listed on the left side of the webpage.
To learn more about our club, click here.

Rotary Club of Dulles International Airport
P.O. Box 554
Herndon, VA 20172